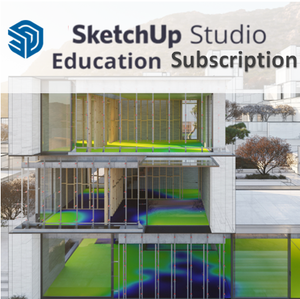 SketchUp Studio Education Subscription
SketchUp Studio Education is the simplest way to steer your education projects ahead with confidence.
Increase workflow efficiency by importing, viewing and modeling directly on point cloud data from terrestrial scans, photogrammetry, lidar sensors, mobile mapping, and drone captures. 
Bundle included: 
SketchUp Pro, SketchUp for web, Mobile Viewer, XR Viewer, Trimble Connect for Business. 3D Warehouse, Extension Warehouse, PreDesign.
Notes : 
* For SketchUp student license, student must be a current student at an accredited educational institution (for example a college or university).
* Student  must also provide proof of student status (letter of enrollment or copy of student ID card).
* License activation will take 2-3 working days.
SketchUp Overview

3D Modelling
Intuitive and simple way to draw accurately in 3D to produce detailed, professional grade models and documents.
BIM, Classification & Reporting
Easily import and export IFC files, export customizable reports for material and cost estimates in just a few clicks!
Dynamic Components
Create simple or complex components in your project. Add any related content you wish, from dimensions, vendor, price, to calculating formulas. One of our power users in China have applied over 10 patents and they have attributed it to using SketchUp and Dynamic Components!
Virtual Design & Construction
Critically plan and review processes with teammates by creating animated construction videos. Foresee challenges, manage supply chain, bridge communication gap with workers, reduce construction wastage and more.
SketchUp features
LayOut (2D documentation tool)
Choose preferred 2D views from your 3D models. Pull out dimensions quickly using the LayOut tool. Generate textured and coloured drawings for contractors to understand easily, and black/white drawings for document submissions.
Extension Warehouse
600+ extensions from drawing curved lines to rendering. Optimize your workflow easily with free and paid third-party extensions. A specific workflow to meet certain standards? No problem, SketchUp's usability is boundless as apps can be created to suit your organization's needs.
3D Warehouse
Why waste time drawing from scratch when you have millions of models and textures at your disposal? Create a visual impact to your projects in a matter of seconds.
Trimble connect
Unlimited Cloud Storage & data sharing
No worries about your files being too large with unlimited storage. Easily share files with your assigned team members.
User Activity Tracking
Easily track changes to your files.
BIM Viewing
Bring together 3D models of different formats: IFC, RVT, SKP,DWG, DXF, DGN, STEP, IGES in one single view.
Clash Detection
Check for structural conflict within a 3D model. Clash reports provide detailed views of the clashes in the 3D model, showing a clearance as a positive measurement and a clash as a negative measurement.
Create teams for collaboration
Define user groups, configure access permissions for team members and monitor project costs and maintenance requirements.
To-do list
Add To-do tasks for collaborators, facilitate communications and stay on top of project status by using view or add comments feature.